Available Price: 28.00 € VAT included 5.50 % : 1.46 €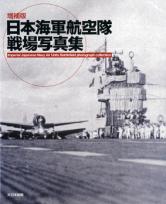 IJN Air Units Battlefied Photograph Collection.
Release of 1/11/2013
Author:
Divers
Edition:
MODEL GRAPHIX N°23112
ISBN :
Second volume in this series dedicated to the IJN air force, as a photo album, with English captions. Also displays many drawings which will assist the modeller to make dioramas. Very nice !
Format : 21x25.8
Pages number : 144
Pictures number : 200
Language : Japanese / English
Color profiles : 22
Available Price: 28.00 €
Avions-bateaux suggestions :
Nakajima Ki-43 Hayabusa. The pictorial brief history of the 50th Squadron.

26.00€

TTC

The IJN Carrier Bomber Suisei D4Y Series Photo & Illustrated Vol.2

31.00€

TTC

The IJN Interceptor SHIDEN N1 K1 - J Series.

35.00€

TTC

Battle of Guadalcanal Aerial Warfare Vol.1

28.00€

TTC

IJN Air Groups in the Southwest Pacific Theater.

29.00€

TTC

IJN Aircraft Paint Scheme Handbook : Zero Fighter

30.00€

TTC

Victories and Losses for Zero over Solomon from Aug. to Nov. 1943 - vol.2

28.00€

TTC