Show only:
ÉDITIONS DECOOPMAN
Delay in delivery of titles not edited by LELA Presse may occur. Thank you for your patience, ... More titles you are interested in this collection, I can order them. Contact me on [email protected] or 0032 (0)5.55.31.08.28.
Price: 29.00 € Available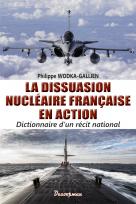 French Nuclear Deterrence in Action. Dictionary of a National narrative.
Release of 20/11/2019
Editions DECOOPMAN
French dissuasion is confused with the strategy for which it was conceived: to repel, in sovereignty, any major war far from the national territory. This mission is unchanged since the first... [read more]