Show only:
Monographies Argentines
These monographs come to us directly from Neuquen in Argentina. They describe the operational activities, own versions of the Argentine Army. These works in Spanish contain full reports, precise documents and photographs.
Delay in delivery of titles not edited by LELA Presse may occur. Thank you for your patience, ... More titles you are interested in this collection, I can order them. Contact me on [email protected] or 0032 (0)5.55.31.08.28.
Price: 20.00 € Out of stock, waiting back order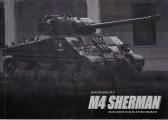 M-4 SHERMAN
Release of 10/12/2018
Monographies Argentines - Serie Terrestre N°02
This issue depicts the history of the famous Sherman tank in Argentina, Paraguay and Chile. It includes many rare and nice photos (many in colour) as well as colour profiles. Very nice ! [read more]
Price: 20.00 € Bientôt en rupture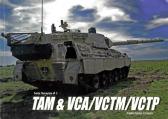 TAM & VCA/VCTM/VCTP
Release of 1/11/2016
Monographies Argentines - Serie Terrestre N°01
The history of the German armoured vehicles developped to respond the needs of the Argentinian army to replace the aged AMX 13, among others. Many nice and rare photo material and colour profiles... [read more]