Show only:
ARÈS ÉDITIONS - Aviation
The Arès Edition presents works of contemporary political and military history.

Works that are not published by LELA Presse may be subject to delivery times from our suppliers. Thank you for your patience ... Other titles interest you in this collection, I can order them. Contact me on [email protected] or on 05.55.31.08.28.
Price: 39.90 € Available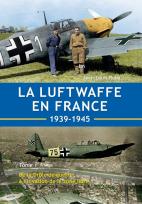 La Luftwaffe en France 1939-1945 - Tome 1
Release of 30/09/2020
ÉDITIONS ARÉS
In 1939, when it was barely five years old, the German military air force, the Luftwaffe, was launched into what would become World War II. Benefiting from a motivated and competent personnel, a... [read more]