Show only:
Éditions Crépin-Leblond
Delay in delivery of titles not edited by LELA Presse may occur. Thank you for your patience, ... More titles you are interested in this collection, I can order them. Contact me on [email protected] or 0032 (0)5.55.31.08.28.
Price: 24.95 € Available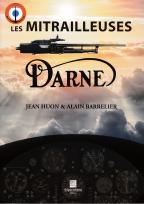 LES MITRAILLEUSES DARNE
Release of 1/11/2018
Editions CREPIN-LEBLOND
While most hunters know the Darne brand, few military history enthusiasts know the Darne machine gun. All can cite the major brands of machine guns: Maxim, Vickers, Hotchkiss, Browning, MG 34 or... [read more]
Price: 33.90 € Bientôt en rupture
LES ARMES D'AVIATION TOME 1 - 1914-1945.
Release of 1/03/2018
Editions CREPIN-LEBLOND
Military aviation took off early in the First World War. The pilots take with them a rifle that will allow them to defend themselves if they have to land behind the lines. But, very quickly, real... [read more]