Show only:
H.M.H. Publications
Delay in delivery of titles not edited by LELA Presse may occur. Thank you for your patience, ... More titles you are interested in this collection, I can order them. Contact me on [email protected] or 0032 (0)5.55.31.08.28.
Price: 23.00 € Available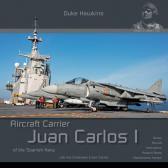 DUKE HAWKINS - Ships in detail N°001 : JUAN CARLOS I Aircraft Carrier Of the...
Release of 5/08/2020
H.M.H Publications - Ships in detail N°001.
The first book in a new book series by HMH Publications. This series, on aircraft carriers, starts with a close look at the Spanish Aircraft Carrier Juan Carlos I. This book includes action and... [read more]