Show only:
Model Graphix
Model Graphix is a Japanese magazine dedicated to scale models. It brings together precise technical drawings, numerous photographs, color profiles of tanks, planes and warships.
Delay in delivery of titles not edited by LELA Presse may occur. Thank you for your patience, ... More titles you are interested in this collection, I can order them. Contact me on [email protected] or 0032 (0)5.55.31.08.28.
Price: 28.50 € 20.00 € Out of stock, waiting back order
Japanese Special Naval Landing force in Shanghai - Last then out of print !
Release of 1/04/2016
MODEL GRAPHIX 23103
Photo book [read more]
Price: 26.00 € 16.90 € Bientôt en rupture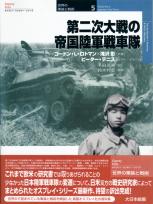 World War II Japanese Tank Tactics
Release of 1/06/2009
MODEL GRAPHIX 22993
A description of the evolution of the Japanese armoured units, its combat tactics and use in the various campaigns from the early twenties to the end of WW2. [read more]