Show only:
Panzerwrecks Limited
Delay in delivery of titles not edited by LELA Presse may occur. Thank you for your patience, ... More titles you are interested in this collection, I can order them. Contact me on [email protected] or 0032 (0)5.55.31.08.28.
Price: 28.50 € Available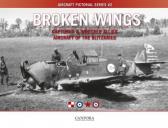 Broken Wings: Captured & Wrecked Aircraft of the Blitzkrieg
Release of 1/09/2019
PANZERWRECKS - Aircraft Pictorial Series N°02
Broken Wings is Tom Laemlein's second volume in Canfora's Aircraft Pictorial Series. Over 176-pages the book presents almost 250-photos of Allied aircraft that fell into the hands of... [read more]
Price: 23.35 € Available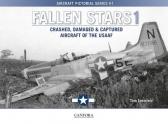 Fallen Stars 1 - Crashed, Damaged & Captured Aircraft of the USAAF.
Release of 10/06/2018
PANZERWRECKS - Aircraft Pictorial Series N°01
Fallen Stars 1 is the first in the new Aircraft Pictorial Series from Canfora Design & Publishing. This series showcases high-quality photos of crashed, damaged and captured US, German,... [read more]