Show only:
LEADENSKY BOOKS
The Leaden Sky Books publishing house is one of the youngest in Serbia, founded by Aleksandar Ognjevic, aviation history enthusiast, researcher and historian. Their books detail long-lost historical facts and tell stories of heroes from the Serbian Air Force to anyone interested in this subject.
Works that are not published by LELA Presse may be subject to delivery times from our suppliers. Thank you for your patience ... Other titles interest you in this collection, I can order them. Contact me on contact@avions-bateaux.com or on 05.55.31.08.28.
HAWKER - (Hurricane, Fury & Hind) The Yugoslav Story, Operational Record...
Release of 10/01/2020
LEADENSKY BOOKS
This book in A4 format, with hard cover, is 196 pages long. It contains more than 50 testimonies, written statements, orders and observations from direct participants of all the parties who took... [read more]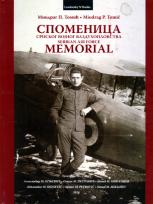 SERBIAN AIR FORCE MEMORIAL-MIODRAG TOMIC
Release of 10/04/2015
LEADENSKY BOOKS
This book is dedicated to the famous Serbian military pilot Miodrag Tomic who started his aviator career in 1912. He took part in the Balkan war, the Great war and received several commands of... [read more]
BRISTOL BLENHEIM, The Yugoslav Story
Release of 1/05/2014
Leadensky Books
There are too few books about the Royal Yugoslav AF shistory and we warmly recommand our readers to get this one which is dedicated the history of the famous Bristol Blenheim bomber in Yugoslavia.... [read more]