Bientôt en rupture Price: 20.00 € VAT included 5.50 % : 1.04 €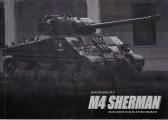 M-4 SHERMAN
Release of 10/12/2018
Author:
Juan Carlos Cicales & Hugo Bianucci
Edition:
Monographies Argentines - Serie Terrestre N°02
ISBN :
ST02
This issue depicts the history of the famous Sherman tank in Argentina, Paraguay and Chile. It includes many rare and nice photos (many in colour) as well as colour profiles. Very nice !
Format : 27.5 x 19.5
Pages number : 51
Pictures number : 35
Language : Spanish
Color profiles : 7
Bientôt en rupture Price: 20.00 €
Avions-bateaux suggestions :
TAM & VCA/VCTM/VCTP

20.00€

TTC