Available Price: 29.00 € VAT included 5.50 % : 1.51 €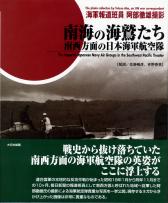 IJN Air Groups in the Southwest Pacific Theater.
Release of 30/10/2014
Author:
Divers
Edition:
MODEL GRAPHIX N°23144
ISBN :
A superb and actually new book depicting through nice photos 3 units of the IJN Air Force : 2 in the South pacific area and one in Japan operating against Okinawa in 1945. The photos have never been published before and this gives value to this photo album.
Format : 21X26
Pages number : 128
Pictures number : 240
Language : Japanese
Color profiles :
Available Price: 29.00 €
Avions-bateaux suggestions :
Interceptor Aircraft Kawanishi N1K Detail Photo Kawanishi Unit 5312

29.00€

TTC

ZUIUN FLIGHT

21.50€

TTC

Nakajima Ki-43 Hayabusa. The pictorial brief history of the 50th Squadron.

26.00€

TTC

The IJN Carrier Bomber Suisei D4Y Series Photo & Illustrated Vol.2

31.00€

TTC

The IJN Interceptor SHIDEN N1 K1 - J Series.

35.00€

TTC

Battle of Guadalcanal Aerial Warfare Vol.1

28.00€

TTC

IJN Aircraft Paint Scheme Handbook : Zero Fighter

30.00€

TTC