Available Price: 42.00 € VAT included 5.50 % : 2.19 €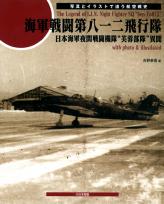 The Legend of IJN Night Fighter SQ "Sen-To812".
Release of 1/10/2012
Author:
Divers
Edition:
Model Graphix 23096
ISBN :
A very nice and detailed work, in Japanese language only, about the night fighter unit created inside the 131 Kokutai in 1944 and all its operations till the end of the war in the Pacific. many photos, many of them seen for the first time. The Judy, their main equipment, is descrbied thanks some very nice colour drawings. For the Japanese aviation fans only !
Format : 25.8 x 21
Pages number : 240
Pictures number : 200
Language : Japanese
Color profiles : 22
Available Price: 42.00 €
Avions-bateaux suggestions :
Interceptor Aircraft Kawanishi N1K Detail Photo Kawanishi Unit 5312

29.00€

TTC

ZUIUN FLIGHT

21.50€

TTC

Nakajima Ki-43 Hayabusa. The pictorial brief history of the 50th Squadron.

26.00€

TTC

The IJN Carrier Bomber Suisei D4Y Series Photo & Illustrated Vol.2

31.00€

TTC

The IJN Interceptor SHIDEN N1 K1 - J Series.

35.00€

TTC

Battle of Guadalcanal Aerial Warfare Vol.1

28.00€

TTC

IJN Air Groups in the Southwest Pacific Theater.

29.00€

TTC