Available Price: 25.00 € VAT included 5.50 % : 1.30 €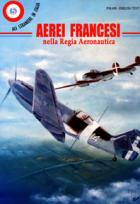 Ali Straniere in Italia n° 05 - Aerei Francesi nella Regia Aeronautica
Release of 1/09/2005
Author:
Giancarlo Garello
Edition:
French Aircraft in the Regia Aeronautica
ISBN :
This is a well illustrated and thoroughly documented survey of all the captured French aircraft that saw service in the Italian Air Force during WWII (practically only in 1943). The author, Giancarlo Garello, is the best qualified specialist on this matter (some years ago he had already approached this subject in his book "Regia Aeronautica e Armèe de l'Air"). The outcome is a very appealing 72-page book in which a great deal of new information is supplied, along with all the Serial Nos. and an extremely interesting photographic documentation (many photos have never been published before). The beautiful colour profiles by Marco Gueli are a great help for modelling purposes.
The text is bilingual (Italian and English).
Format : A4
Pages number : 72
Pictures number : 80
Language : Italian / English
Color profiles : 0
Available Price: 25.00 €
Avions-bateaux suggestions :
Ali d'Italia n° 19 - BREDA 88 - Reissue !

16.00€

TTC

Ali d'Italia n° 26 - IDROCORSA MACCHI - Reissue !

25.00€

TTC

Ali d'Italia Mini n° 08 - Cansa FC.20. Reissue.

11.00€

TTC

ALI E COLORI N° 7 - Fiat CR.32.

15.00€

TTC

CENTAURI SU TORINO.

50.00€

TTC

Ali d'Italia IMMAGINI N°01 - Fiat CR.32.

20.00€

TTC

Ali d'Italia n° 29 - Le SIAI S.81

18.00€

TTC