Available Price: 16.00 € VAT included 5.50 % : 0.83 €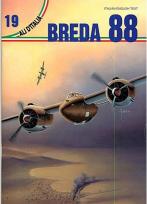 Ali d'Italia n° 19 - BREDA 88 - Reissue !
Release of 1/03/2021
Author:
Enrico Leproni
Edition:
ALI D'ITALIA SPECIAL N°19
ISBN :
This issue on the Breda 88 contains the history of the aircraft, the technical description accompanied by extracts from the use and maintenance booklet, and is richly illustrated with photos almost all unpublished. The six view technical drawings in the two modeling scales, the color profiles and color views and the color interior design are of high quality and a great help for model makers.
Format : A4 + DEPLIANT
Pages number : 56
Pictures number : 110
Language : Italian / English
Color profiles : 8
Available Price: 16.00 €
Avions-bateaux suggestions :
Ali d'Italia n° 26 - IDROCORSA MACCHI - Reissue !

25.00€

TTC

Ali d'Italia Mini n° 08 - Cansa FC.20. Reissue.

11.00€

TTC

ALI E COLORI N° 7 - Fiat CR.32.

15.00€

TTC

CENTAURI SU TORINO.

50.00€

TTC

Ali d'Italia IMMAGINI N°01 - Fiat CR.32.

20.00€

TTC

Ali d'Italia n° 29 - Le SIAI S.81

18.00€

TTC

COLORI & INSEGNE N°01.02.03 - BOX.

64.00€

TTC