Available Price: 25.00 € VAT included 5.50 % : 1.30 €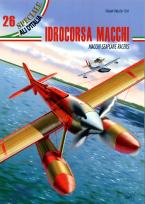 Ali d'Italia n° 26 - IDROCORSA MACCHI - Reissue !
Release of 1/10/2019
Author:
Giorgio Apostolo & Gianni Cattaneo
Edition:
ALI D'ITALIA SPECIAL N°26.
ISBN :
A welcome reprint of this particularly interesting issue dedicated to the racing Macchi seaplanes. Nice photos, colour profiles and scale drawings are a nice addition to the story of these fine racers. Limited edition.
Format : A4
Pages number : 96
Pictures number : 132
Language : Italian / English
Color profiles : 18
Available Price: 25.00 €
Avions-bateaux suggestions :
Ali d'Italia n° 19 - BREDA 88 - Reissue !

16.00€

TTC

Ali d'Italia Mini n° 08 - Cansa FC.20. Reissue.

11.00€

TTC

ALI E COLORI N° 7 - Fiat CR.32.

15.00€

TTC

CENTAURI SU TORINO.

50.00€

TTC

Ali d'Italia IMMAGINI N°01 - Fiat CR.32.

20.00€

TTC

Ali d'Italia n° 29 - Le SIAI S.81

18.00€

TTC

COLORI & INSEGNE N°01.02.03 - BOX.

64.00€

TTC