Available Price: 17.50 € VAT included 2.10 % : 0.36 €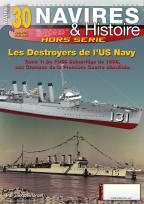 Les Destroyers de l'US Navy, Tome 1: De L'USS Bainbridge de 1898, aux Clemson de la Première Guerre Mondiale.
Release of 8/06/2017
Author:
Jacques Druel
Edition:
HORS-SÉRIE NAVIRES & HISTOIRE N°30 - 3D.
ISBN :
When the United States Congress authorized the construction of the first sixteen torpedo boat destroyers in 1898, no one could believe that about 20 years later, nearly three hundred and fifty ships would have left the US shipyards and some would fight Still during the next conflict!

This first issue, in a series of four, traces the history of the destroyers of the US Navy, the Bainbridge from the beginning of the Twentieth Century to the Clemson of the First World War, which will still find in action twenty- Years later. Nearly 160 photos and thirty high-quality 3D views accompany the text.
Format : A4
Pages number : 96
Pictures number : 160
Language : French
Color profiles : 30
Available Price: 17.50 €
Avions-bateaux suggestions :
LES SOUS-MARINS DE LA KRIEGSMARINE 1935-1943 5éme partie : La fin.

17.50€

TTC

LES CUIRASSÉS DE POCHE DE LA KRIEGSMARINE

17.50€

TTC

Le tournant de la Bataille de l'Atlantique : Convoi ONS 5.

17.50€

TTC

BATTLESHIPS CLASS '' SOUTH DAKOTA ''.

17.50€

TTC

Les Destroyers de l'US Navy, Tome 3 : Les Benson, Gleaves et Fletcher à l'épreuve du feu.

17.50€

TTC

LES CUIRASSÉS DE LA CLASSE "NORTH CAROLINA".

17.50€

TTC

Les Destroyers de l'US Navy, Tome 2: Des Farragut aux Sims, les constructions d'entre-deux guerres.

17.50€

TTC