Rupture, en attente de réapprovisionnement Price: 17.00 € VAT included 5.50 % : 0.89 €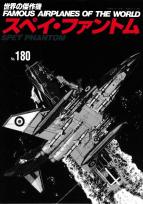 BUNRIN DO N° 180: Spey Phantom.
Release of 1/07/2017
Author:
Edition:
BURIN DO 180
ISBN :
9784893192561
Fully dedicated to the British version of the famous Phantom, equipped with Rolls-Royce Spey engines. It fullfills the Bunrin do series on the Phantom. With many nice colour photos, colour profiles and scale drawings.
Format : 18.5 X 25.5
Pages number : 122
Pictures number : 180
Language : Japanese
Color profiles : 10
Rupture, en attente de réapprovisionnement Price: 17.00 €
Avions-bateaux suggestions :
BUNRINDO 190 - Heinkel He 162.

16.00€

TTC

BUNRINDO 189 - Avro Vulcan

17.00€

TTC

BUNRINDO 188 - LTV A-7 Corsair II Navy Version

17.00€

TTC

BUNRIN DO N°187 : Handley Page Victor

17.00€

TTC

BUNRIN DO N°186 : Heinkel He 111.

17.00€

TTC

BUNRINDO Sp07 : Type 2 Two-Seat Fighter Kawasaki Ki-45 Toryu.

22.00€

TTC

BUNRIN DO N°185 : Junkers Ju 52.

16.00€

TTC