Available Price: 14.00 € VAT included 5.50 % : 0.73 €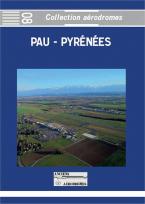 Pau-Pyrénées
Release of 1/02/2020
Author:
Jacques de Lautrec
Edition:
Collection Aérodromes n°8
ISBN :
978-2-919572-14-4
The first aerodrome in Pau was built in 1909 for the first flights of W. WRIGHT. Subsequently, and without interruption to the present day, several aerodromes were installed on the current site of the Pau-Pyrénées airfield.

It is the exceptional development of these first aerodromes to the present day that we invite you to discover in this book with:
- The arrival of the WRIGHT brothers in 1909, the many aviation schools established on this site between 1909 and 1914 (Blériot, Morane-Saunier, Deperdussin, Nieuport and others).
- The extraordinary development of the military aviation school between 1914 and 1918 which trained more than 6,000 French and foreign pilots including more than half of the French "AS" as well as many foreign "AS".
- The period between the two world wars with the maintenance of military aviation and the development of civil aviation with the "Postale".
- The renaissance of the airport, after the Allied bombings in 1944, and its evolution until its current situation as an international airport, with the establishment of one of the main French military helicopter bases and the only School military paratrooper training, as well as the presence of a dynamic flying club.
Format : 17 X 24
Pages number : 180
Pictures number : 200
Language : French
Color profiles : 0
Available Price: 14.00 €
Avions-bateaux suggestions :
ATLAS PAS DE CALAIS

14.00€

TTC

CREIL. Du champ d'Aviation à la Base de Défense.

14.00€

TTC

ATLAS NORD - Military Airfields. First World War.

15.00€

TTC

MERVILLE-CALONNE. Nouvelle Édition ! Histoire d'une ancienne base aérienne militaire.

12.00€

TTC

ATLAS AISNE

15.00€

TTC

ATLAS MEUSE

12.00€

TTC

ATLAS OISE

10.00€

TTC