Available Price: 35.00 € VAT included 5.50 % : 1.82 €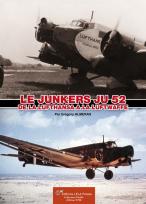 LE JUNKERS Ju 52, DE LA LUFTHANSA A LA LUFTWAFFE.
Release of 27/05/2016
Author:
Grégory ALMERAS
Edition:
Collection Profils Avions n°28.
ISBN :
978-2-914017-93-0
Grégory Almeras is a WW II aviation enthusiast based in the south of France. He has spent the past ten years assembling a collection of photos of the Junkers Ju 52 and writing detailed captions retracing the story of this iconic aircraft. The result of long hours spent poring over his photo albums, this 176 A-4 page hardback features over 350 photos organised into 23 chapters with one, two or three photos per page and captions of a corresponding length - in French. The images are mostly excellent, previously unpublished and cover the type's early career as a civilian airliner and transport, with one short chapter given over to the French AAC 1 Toucan. The bulk of the work features the type in service with the Luftwaffe prior to and during WWII with much detail in the captions of the many resupply operations mounted by the Germans on the Eastern Front. The campaign in the West and other theatres such as Crete, Scandinavia and North Africa also feature. Each chapter has a short introductory text. Some twenty large scale artworks by Thierry Dekker are distributed throughout, while the restoration of a French Ju 52 is detailed with internal and cockpit views. There is also a small modelling chapter. The author explains that none of the photos are enhanced or cropped or otherwise manipulated to enable the full context to be appreciated. For the most part they were taken by the crews themselves in the heat of the action. So while a few are less than perfect, many are absolutely first-rate and, reproduced large, take us right into the daily lives of the men that flew or maintained or loaded the aircraft through some of the most dramatic moments of WWII.
Format : A4
Pages number : 176
Pictures number : 360
Language : French
Color profiles : 20
Available Price: 35.00 €
Avions-bateaux suggestions :
VAMPIRE et MISTRAL Français. Tome 01

59.00€

TTC

Le SA 330 PUMA

55.00€

TTC

Les C-47 sous nos Cocardes.

59.00€

TTC

Le Flamant & ses dérivés.

59.00€

TTC

Les Hydravions de la Luftwaffe. Vol.01. Out of print !

53.00€

TTC

Les Hydravions de la Luftwaffe. Vol.02. Sold out!

55.00€

TTC

Le Focke-Wulf 200 Condor.

55.00€

TTC