Available Price: 50.00 € 25.00 € VAT included 5.50 % : 2.61 €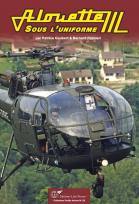 L'ALOUETTE III sous l'uniforme.
Release of 7/07/2014
Author:
Patrice Gaubert & Bernard Palmieri.
Edition:
PROFILS AVIONS N°25
ISBN :
978-2-914017-78-7
If you ask the man on the street to name an airliner , he will think " Boeing " and " Airbus " for a fighter , he will answer "Mirage " or " Burst " ... But ask him name of a helicopter, and it is certainly "Alouette" which will come first ! For over half a century , the Alouette III travels the skies worldwide. More than 1400 units are out of French channels, and more than 600 were produced abroad , or about 2000 cells. Many of these machines had a civilian career , but the majority served in uniform in missions varied , from France to Australia , India, Costa Rica, Denmark and the South Africa , whether from land than from a ship at sea Today Alouette III gradually leave the tarmac and it was time to tell in detail the military career of this fabulous machine, and especially the actions of these men and women who have implementation on the ground and in flight, in time of peace as in war operations . All French units are visited , as well as state entities ( Public Safety , CEV) . After seventy eight foreign users, best known exotic , they flew on a single device or received a hundred machines . For all French and foreign , a new color profile and numerous photos illustrate a specific and documented text. Stories of airmen, a list of production, many technical illustrations further enhance the completeness of this monograph Alouette III in uniform , first book on the subject of scale.
Format : A4
Pages number : 352
Pictures number : 960
Language : French
Color profiles : 40
Available Price: 25.00 €
Avions-bateaux suggestions :
Le Flamant & ses dérivés.

59.00€

TTC

Le Focke-Wulf 200 Condor.

55.00€

TTC

Le MORANE SAULNIER MS-760 PARIS

55.00€

TTC

Lockheed F-104 Starfighter - the controversial story of th 'Zipper'

55.00€

TTC

Le NORATLAS, du Nord 2500 au Nord 2508. Slightly damaged. out of print !

55.00€

TTC

LE JUNKERS Ju 52, DE LA LUFTHANSA A LA LUFTWAFFE.

35.00€

TTC

The P-51 Mustang, a fighter into legend.

55.00€

TTC