Bientôt en rupture Price: 35.00 € VAT included 5.50 % : 1.82 €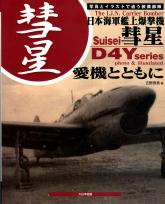 The I.J.N. Carrier Bomber D4Y series Suisei photo & illustrated.
Release of 1/09/2012
Author:
Divers
Edition:
Model Graphix 23079
ISBN :
The books on the famous shipboard dive bomber Yokosuka D4Y Suisei (Judy) are quite rare and only Bunrin do published one in their Famous Aircraft of the World series some years ago. So this one from Model Graphix is a most welcome addition. The books starts qith a technical description using many drawings (very useful to the modeller) and then come the units, one by one, with many photos. The last part of the book describes the different versions with scale drawings and details. Though in Japanese, this book is very useful as mostly photographic. Don't miss it !
Format : 21x26
Pages number : 128
Pictures number : 150
Language : Japanese
Color profiles : 26
Bientôt en rupture Price: 35.00 €
Avions-bateaux suggestions :
Interceptor Aircraft Kawanishi N1K Detail Photo Kawanishi Unit 5312

29.00€

TTC

ZUIUN FLIGHT

21.50€

TTC

Nakajima Ki-43 Hayabusa. The pictorial brief history of the 50th Squadron.

26.00€

TTC

The IJN Carrier Bomber Suisei D4Y Series Photo & Illustrated Vol.2

31.00€

TTC

The IJN Interceptor SHIDEN N1 K1 - J Series.

35.00€

TTC

Battle of Guadalcanal Aerial Warfare Vol.1

28.00€

TTC

IJN Air Groups in the Southwest Pacific Theater.

29.00€

TTC