Available Price: 25.00 € VAT included 5.50 % : 1.30 €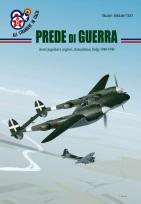 Ali Straniere in Italia n° 06 - Prede di Guerra.
Release of 15/02/2007
Author:
G. Garello
Edition:
Prede di Guerra
ISBN :
This issue deals with the enemy aircraft captured by the Regia Aeronautica in Jugoslavia (Bucker, Rogozarski, Hawker Fury, Do17, Bf109, etc..), the british aircraft (Hurricane, Spitfire, Blenheim, Swordfish, Albacore, Beaufighter), the american aircraft (P40C, B-24, P-38) and the belgian aircraft (DC-3 and SM-83). Part of these captured aircraft were found in poor condition or damaged but some of them could supply useful information on new aeronautical technologies. This volume is the last in the ?Ali Straniere? collection and, together with the five previous titles, will provide the most complete coverage on the interesting matter of ?war prizes? in italian hands. As usual with all our publications, this volume is very well illustrated. Many of the 28 color profiles purposely made by the well known artist Marco Gueli, show the foreign aircraft with their new italian camouflage and markings. The deeply researched text is by Giancarlo Garello, one of the best italian aviation historians. Some 98 b&w photos and a great deal of never before published information make this 80-page publication a must to all the fans of Italian WW2 aviation. (The many illustrations can supply new ideas to the scale modellers too). The text is in Italian and English.
Format : A4
Pages number : 72
Pictures number : 98
Language : Italian / English
Color profiles : 28
Available Price: 25.00 €
Avions-bateaux suggestions :
Ali d'Italia n° 19 - BREDA 88 - Reissue !

16.00€

TTC

Ali d'Italia n° 26 - IDROCORSA MACCHI - Reissue !

25.00€

TTC

Ali d'Italia Mini n° 08 - Cansa FC.20. Reissue.

11.00€

TTC

ALI E COLORI N° 7 - Fiat CR.32.

15.00€

TTC

CENTAURI SU TORINO.

50.00€

TTC

Ali d'Italia IMMAGINI N°01 - Fiat CR.32.

20.00€

TTC

Ali d'Italia n° 29 - Le SIAI S.81

18.00€

TTC