Available Price: 24.50 € VAT included 5.50 % : 1.28 €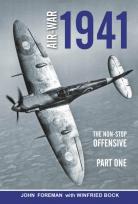 1941 - The Non-Stop Offensive. Part 1.
Release of 20/12/2017
Author:
John Foreman et Winfried Bock
Edition:
Wing Leader. Air Research
ISBN :
978-1-871187-57-1
John Foreman's latest volume chronicles the hour-by-combats fought between the 22nd of June and the end of August 1941; the period that marked the start of the RAF's Non-Stop Offensive against Occupied Europe. The operational losses and combats of Fighter, Bomber and Coastal Commands, as well as the Fleet Air Arm, are detailed – as are those of the Luftwaffe. This period of the air war has not been chronicled before in this detail.

1941 – The Non-Stop Offensive, follows on from some of John's earlier books 1941 – The Turning Point (Parts 1 and 2) that cover January 1st to 21st June 1941. A limited number of these books (first published in 1994) are still available, but John is keen to point out much new information is now available and that he is working on the revised editions.
Format : 15.5 x 23
Pages number : 363
Pictures number : 400
Language : English
Color profiles :
Available Price: 24.50 €
Avions-bateaux suggestions :
SUPERMARINE SPITFIRE MkI in RAF Service - 1936 to the Battle of Britain.

29.00€

TTC

Nachtjagd Combat Archive - 1944 - Part 02

30.00€

TTC

Wingleader Magazine Printed Compendium Vol.4

18.00€

TTC

Nachtjagd Combat Archive - 1944 - Part 01

30.00€

TTC

Wingleader Magazine Printed Compendium Vol.3

18.00€

TTC

Battle of Britain Combat Archive - Vol 7.

24.00€

TTC

Nachtjagd Combat Archive - The Early Years - Part Three.

24.00€

TTC