Available Price: 11.00 € VAT included 5.50 % : 0.57 €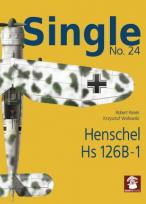 Single N°24 - Henschel Hs 126 B-1
Release of 6/10/2020
Author:
Krzysztof W. Wolowski, Robert Panek
Edition:
MMP - Série SINGLE N°24
ISBN :
This book is compilations of the 4-view colour profiles, scale plans and photo details of the single variant of the Henschel Hs 126B-1. Scale plans in 1/72 and 1/48 scales plus drawings from wartime technical manuals. Also photos of the details in B&W and colour.
Format : A4
Pages number : 24
Pictures number : 17
Language : English
Color profiles : 2
Available Price: 11.00 €
Avions-bateaux suggestions :
McDonnell Douglas (Boeing) F-15 Eagle

21.00€

TTC

Scale Plans N°68 - Republic F-105 Thunderchief in 1/48 Scale

11.00€

TTC

Saab 35 Draken

27.90€

TTC

Polish Wings No. 29 Supermarine Spitfire V vol. 1

19.00€

TTC

Single N°23 - NAA P-51B-1-NA Mustang

11.00€

TTC

Battle Of Britain Defenders

21.00€

TTC

Scale Plans N°67 - Mil Mi-24D/V in 1/48 scale

11.00€

TTC