En Précommande Price: 56.00 € VAT included 5.50 % : 2.92 €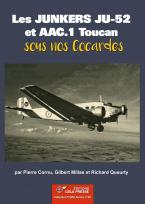 LES JUNKERS JU-52 et AAC.1 TOUCAN SOUS NOS COCARDES
Release of 30/05/2021
Author:
Pierre Cornu, Gilbert Millas & Richard Queurty
Edition:
Collection Profils Avions N°38
ISBN :
Release in MAY 2021 - FREE SHIPPING until this DATE!
Offer reserved for individuals, non-contractual date.

Prefer payment by check or Visa / MasterCard that you send by post. It will not be cashed until publication. Exclusive at LELA PRESSE! Please write only one check per book subscribed.
Orders paid directly on the site will be with immediate debit. ORDER FORM in PDF attached.


A German engineer, Hugo Junkers was the pioneer in the construction of all-metal airplanes and, from 1914, he developed several models dedicated to air transport. The culmination of this series of planes, the prototype of the Junkers 52, designed in 1930 at the request of the national airline Lufthansa, was first a single-engine, then the Ju 52, in its final three-engine version, flew in 1932, few time before Hugo Junkers left his factories under the control of the National Socialist power.
Thanks to its qualities of reliability and robustness, the Ju-52 is a huge success: built mainly in Germany to more than 4200 units, but also in Spain to 170 units with the name Casa 352, it flies under the colors of several Airlines companies. Unfortunately, it was above all its military use by the Luftwaffe during the Spanish Civil War and then during the Second World War that made famous its singular silhouette and its corrugated iron coating.
In France, under German occupation, the Amiot factories will still produce 538 devices. The Ju-52 is so well designed that in 1944, while the German armies are withdrawing, it is decided to continue production under the name AAC.1: the goal is to rapidly increase the air transport capacity of the armies. then in full reconstruction. Channels from the Ateliers Aéronautiques de Colombes (AAC) will release 415 AAC-1 called "Toucan".
Until the sixties, alongside the 38 Ju-52 seized from the defeated German armies, the Toucan will be used in all the latitudes where France will be engaged: in Europe, to repatriate the populations displaced by the war, in Indochina, in Madagascar, in Africa. The Air Force will be the primary user, but Naval Aviation will also be equipped. Air France and no less than seventeen French airlines, as well as certain administrations, will share with the armies the experience of the "Julie", the nickname given by the crews to the rustic three-engine.
It is the life of each of these planes under the cockades of the French Air Force and Naval Aviation that recounts this book, widely documented by the testimonies of those who flew in crew on "Julie" and illustrated by more of 800 photos and 50 profiles.
Reliable and robust aircraft of which nearly 5,400 copies were produced in Europe, the legendary three-engined aircraft deserved that the pages of its long history under the French colors be finally gathered in this book which pays homage to it.
Format : A4
Pages number : 440
Pictures number : 800
Language : French
Color profiles : 50
En Précommande Price: 56.00 €
Avions-bateaux suggestions :