En Précommande Price: 59.00 € VAT included 5.50 % : 3.08 €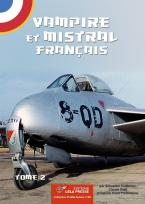 VAMPIRE et MISTRAL Français. Tome 02
Release of 15/11/2020
Author:
Sébastien Guillemin, Claude Petit et Patrick Vinot Préfontaine
Edition:
Collection Profils Avions N°36
ISBN :
Publication in NOVEMBER 15, 2020 - FREE SHIPPING until this DATE!
Offer reserved for individuals, non-contractual date.

Prefer payment by check or Visa / MasterCard that you will send by post. It will not be cashed until publication. Exclusive to LELA PRESSE!
Orders paid directly on the site will be debited immediately. ORDER FORM in PDF attached.


If the Vampire was designed and used as a fighter aircraft by the Air Force, this use should not have been its prerogative very long. The arrival of American aircraft as part of the MDAP, the progressive development of Marcel Dassault's hunters, won him the spotlight, especially since they were more modern and simply better. However, it was necessary to find it useful: it is within the Hunting School of Meknes that the Vampires will be used for the reactor transition of young pilots.
On the other hand, the Mistral, ordered for 247 copies, was not used for pure hunting despite improved performance. It was his ability to carry bombs and rockets that made him meet history: operations in Algeria will highlight its offensive potential in all fighter wings in North Africa.
Volume 1 dealt with the technical, industrial and operational history of the two models, then followed their day-to-day use by metropolitan and German squadrons. This second volume will continue the narration of their employment, but this time within AFN's squadrons, in the context of the Algerian conflict. A place is also made at the squadron of Creil reservists, before returning in detail to the employment in the schools of the Air Force and the Navy. In addition, the use of Vampires and Mistrals by the CEV and finally in the Sahara is highlighted.
The work is supplemented by a long chapter devoted to Vampires imported into France as collector planes. And, to the satisfaction of amateurs, a chapter reviews the brands and badges, and all the models allowing, over the years, to represent the first combat jet in France.
About 1000 photos, 32 profiles, all on 400 pages. Color profiles by Patrice Gaubert - Drawings by Claude Petit - 1:72 scale plans by Régis Biaux.
Format : A4
Pages number : 400
Pictures number : 1000
Language : French
Color profiles : 32
En Précommande Price: 59.00 €
Avions-bateaux suggestions :