En Précommande Price: 43.00 € VAT included 5.50 % : 2.24 €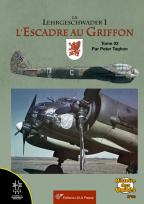 La Lehrgeschwader 1, l'Escadre au Griffon. Tome 02
Release of 30/05/2020
Author:
Peter TAGHON
Edition:
Collection Histoire des Unités n°08.
ISBN :
Publication MAY 2020 - FREE SHIPPING until this DATE!
Offer reserved for individuals, non-contractual date.

Prefer payment by Visa / MasterCard that you will send by post. It will not be cashed until publication. Exclusive to LELA PRESSE!
Orders paid directly on the site will be debited immediately. ORDER FORM in PDF attached.


The Lehrgeschwader 1 engaged in the Mediterranean from the beginning of 1941 against the British forces had very quickly been respected by its opponents (whether they were of the Navy or the army), having won during these bloody battles the dreaded nickname of 'Helbig's flyers' (after the name of one of its best officers). But, in September 1942, the III./LG 1detached 'temporarily' to the USSR and therefore cut off from the rest of the squadron, was redesignated III./KG 6. The I./KG 55, also flying on Ju 88, became thus the new III./LG 1. If this Gruppe was dissolved in May 1944, the I. and II./LG 1 fought for their part until the end of the war, leaving Italy to be engaged on Normandy at the time of the Landing in June 1944 then on the Reich both in the west (Battle of the Bulge) and in the east (facing the Soviet steamroller). The remainders of LG 1 were not de facto dissolved until the beginning of May 1945. During this whole period of war, the squadron mainly flew on various types of Ju 88 (A-5, A-4, A- 14, S-3). While other Kampfgeschwaders were equipped with more modern devices (Ju 188 or Do 217), the LG 1 fought to the end on planes that one could call obsolete. But, while the other KGs were dissolved or passed on fighters, the Lehrgeschwader 1 was one of the very few Luftwaffe units to cross the six years of war as a pure bombing unit.
A 288 page book illustrated with 600 photos and 29 color profiles by the hand of Thierry Dekker. In this Volume II are numerous appendices (losses of the unit as well as lists of the planes, aviators and officers having led the groups and the squadrons).
Tome 01 always available on the site, section History of the Units.
Format : A4
Pages number : 288
Pictures number : 600
Language : French
Color profiles : 29
En Précommande Price: 43.00 €
Avions-bateaux suggestions :