En Précommande Price: 35.00 € VAT included 5.50 % : 1.82 €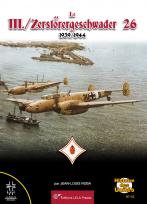 Le III./Zerstörergeschwader 26 - 1939/1944.
Release of 10/01/2020
Author:
Jean-Louis ROBA
Edition:
Collection Histoire des Unités n°12.
ISBN :
Release JANUARY 10, 2020 - FREE POST until this DATE!
Offer reserved for individuals, non-contractual date, printing launched when the pre-sales objective will be reached. 200 sales are needed. To da 207 books have been sold. IT'S AT THE BOOKS PRINTER !

Prefer payment by Visa / MasterCard that you will send by post. It will not be cashed until publication. Exclusive at LELA PRESS!
Orders paid directly on the site will be with immediate debit. ORDER FORM in PDF (2) attached.
It may seem surprising in the context of an air unit history to detach a group from its squadron. However, the III./ZG 26, which started the Second World War on Bf 109, had a very independent career. Having received twin BF 110s during the Funny War, the unit was largely engaged in 1940 in the west and on England. Released at the end of 1940, like all Zerstörer groups, the III./ZG 26 was sent to the Mediterranean in early 1941, where his heavy fighters mainly supported the advance of the Afrika Korps while escorting ships supplying the German Army. Africa. In 1943, after the fall of Tunisia and facing the numerical superiority of Allied aviation, the III./ZG 26 returned to Germany to be thrown into the bloody fighting of the Reichsverteidigung. The Bf 110 were decimated and the unit was dissolved in mid-44. A 176-page book with 380 photos and 28 color profiles.
Discover the first 15 pages of this book thanks to PDF.
Format : A4
Pages number : 176
Pictures number : 380
Language : French
Color profiles : 28
En Précommande Price: 35.00 €
Avions-bateaux suggestions :