Available Price: 55.00 € VAT included 5.50 % : 2.87 €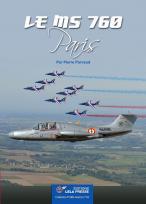 Le MORANE SAULNIER MS-760 PARIS
Release of 23/05/2018
Author:
Pierre PARVAUD
Edition:
Collection Profils Avions n°33
ISBN :
978-2-37468-007-1
The Morane-Saulnier 760 Paris was the first four-seat jet of military, training and business connections, made to 157 copies in France and Argentina.
It has been used for 48 years by Argentina, 45 years by the Air Force and 38 years by the Navy. If 15 Paris were bought new by private users, they were about fifty on the civil registers at the end of 2017. The production of an improved version is planned in China from 2025.
More than 800 photos, 304 pages, 22 color profiles of Franck Fischer, plans and drawings.

Format : A4
Pages number : 304
Pictures number : 800
Language : French
Color profiles : 22
Available Price: 55.00 €
Avions-bateaux suggestions :
VAMPIRE et MISTRAL Français. Tome 01

59.00€

TTC

Le SA 330 PUMA

55.00€

TTC

Les C-47 sous nos Cocardes.

59.00€

TTC

Le Flamant & ses dérivés.

59.00€

TTC

Les Hydravions de la Luftwaffe. Vol.02. Sold out!

55.00€

TTC

Les Hydravions de la Luftwaffe. Vol.01. Out of print !

53.00€

TTC

Le Focke-Wulf 200 Condor.

55.00€

TTC