Available Price: 55.00 € VAT included 5.50 % : 2.87 €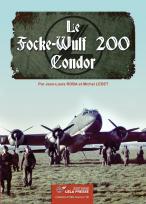 Le Focke-Wulf 200 Condor.
Release of 23/05/2018
Author:
J. Louis ROBA & Michel LEDET
Edition:
Collection Profils Avions n°30
ISBN :
978-2-37468-006-4
Despite its typical appearance very well known aviation enthusiasts of the Second World War, the Fw 200, militarized civil transport aircraft, remains a little mysterious. Being one of the few four-engine Luftwaffe, he served initially as a maritime bomber, earning the nickname 'Scourge of the Atlantic'. And although a very fragile device produced in few copies, it will make a time waver the British Empire on its bases. This book covers the entire evolution of this somewhat mythical apparatus, from its first and rapid successes to its gradual erasure.
More than 660 photos, 320 pages, 28 color profiles of Thierry Dekker, shots and a skinned.
Format : A4
Pages number : 320
Pictures number : 660
Language : French
Color profiles : 28
Available Price: 55.00 €
Avions-bateaux suggestions :
VAMPIRE et MISTRAL Français. Tome 01

59.00€

TTC

Le SA 330 PUMA

55.00€

TTC

Les C-47 sous nos Cocardes.

59.00€

TTC

Le Flamant & ses dérivés.

59.00€

TTC

Les Hydravions de la Luftwaffe. Vol.02. Sold out!

55.00€

TTC

Les Hydravions de la Luftwaffe. Vol.01. Out of print !

53.00€

TTC

Le MORANE SAULNIER MS-760 PARIS

55.00€

TTC