Available Price: 41.00 € VAT included 5.50 % : 2.14 €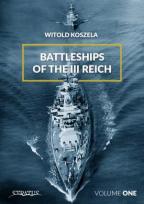 Battleships Of The Third Reich Vol. 1.
Release of 25/08/2018
Author:
Witold Koszela
Edition:
MMP BOOKS - SERIE MARITIME N°3109
ISBN :
9788365281814
The first of two volumes which tell the stories of and illustrate all the German battleships that were in Kriegsmarine service during WWII. The author describes the history of the ships in the order in which they entered service, devoting much precise attention to their construction and their differences in construction from other ships. The author also reviews the history of the Kriegsmarine service, the many curiosities in its policy and people who had a direct influence on the fate of the ships. All the ships are described and illustrated with full technical specifications. The book is profusely illustrated with the author's own scale drawings.

Book includes: 180+ photos; 11 scale plans; 16 technical drawings; 24 colour profiles.

Chapters:
- Deutschland Hitler's first battleship.
- Admiral Scheer – "pocket battleship".
- Admiral Graf Spee – the hero from Montevideo.
- Scharnhorst and her fate.


Format : A4 + dépliant
Pages number : 152
Pictures number : 180
Language : English
Color profiles : 24
Available Price: 41.00 €
Avions-bateaux suggestions :
Battleships Rodney & Nelson

35.50€

TTC

Battleships Of The Third Reich Vol. 2.

41.00€

TTC

Ship Plans N°03 - IJN Destroyers Matsu Class.

11.00€

TTC

The King George V Class Battleships HMS King George V. HMS Prince of Wales, HMS Duke of York, HMS Anson, HMS Howe.

35.00€

TTC

The Forgotten War Of The Royal Navy. Baltic Sea 1918-1920.

28.50€

TTC

Russo-Turkish Naval War 1877-1878

30.00€

TTC

Ship Plans N° 02 American Cruiser USS Vincennes

11.00€

TTC