Available Price: 25.00 € VAT included 5.50 % : 1.30 €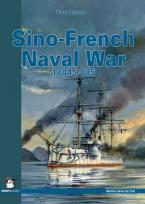 Sino-French Naval War 1884-1885
Release of 12/07/2012
Author:
Piotr Olender
Edition:
MMP - MARITIME SERIES N° 3104
ISBN :
This new book covers the Sino-French Naval War 1884-1885, a little-known part of late 19thC naval history.

The background, operations and outcomes are described in detail. All the ships involved, both French and Chinese, are described and illustrated with full technical specifications. Profusely illustrated with scale drawings and photos.
Format : A4
Pages number : 128
Pictures number : 117
Language : English
Color profiles :
Available Price: 25.00 €
Avions-bateaux suggestions :
Battleships Rodney & Nelson

35.50€

TTC

Battleships Of The Third Reich Vol. 2.

41.00€

TTC

Ship Plans N°03 - IJN Destroyers Matsu Class.

11.00€

TTC

The King George V Class Battleships HMS King George V. HMS Prince of Wales, HMS Duke of York, HMS Anson, HMS Howe.

35.00€

TTC

Battleships Of The Third Reich Vol. 1.

41.00€

TTC

The Forgotten War Of The Royal Navy. Baltic Sea 1918-1920.

28.50€

TTC

Russo-Turkish Naval War 1877-1878

30.00€

TTC