Available Price: 40.00 € VAT included 5.50 % : 2.09 €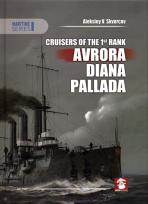 Cruisers of the 1st Rank. Avrora, Diana, Pallada
Release of 24/07/2015
Author:
Aleksiey V. Skvorcov
Edition:
MMP - Série Maritime N°3106
ISBN :
978-83-63678-56-2
A monograph dedicated to the story of construction, building and service of the three sister-ships - "Aurora", "Diana" and "Pallada", commissioned into the Russian Navy in the beginning of XX century. All of them participated Russo-Japanese War 1904–1905, the first two struggled in the Baltic Sea during WWI (1914–1918). More than 300 photos, mostly unpublished, and many scale plans including original ones.
Format : A4
Pages number : 210
Pictures number : 340
Language : English
Color profiles :
Available Price: 40.00 €
Avions-bateaux suggestions :
Battleships Rodney & Nelson

35.50€

TTC

Battleships Of The Third Reich Vol. 2.

41.00€

TTC

Ship Plans N°03 - IJN Destroyers Matsu Class.

11.00€

TTC

The King George V Class Battleships HMS King George V. HMS Prince of Wales, HMS Duke of York, HMS Anson, HMS Howe.

35.00€

TTC

Battleships Of The Third Reich Vol. 1.

41.00€

TTC

The Forgotten War Of The Royal Navy. Baltic Sea 1918-1920.

28.50€

TTC

Russo-Turkish Naval War 1877-1878

30.00€

TTC