Available Price: 25.00 € VAT included 5.50 % : 1.30 €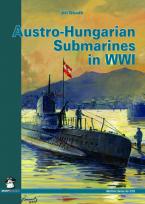 Austro-Hungarian Submarines in WWI.
Release of 5/01/2012
Author:
Jiri Novak
Edition:
MMP - MARITIME SERIES N° 3103
ISBN :
Austrian submarines of World War I were known as "U-boot", an abbreviation of Unterseeboot. This book details the history of the development and operational use by the Austro-Hungarian navy of submarines in WWI. German use of submarines in WW1 is well known – this is the fascinating and little-known history of their major ally's activities in undersea warfare. Contains descriptions and specifications of all the boats involved. Profusely illustrated with scale drawings and many rare photos.
Format : A4
Pages number : 152
Pictures number : 144
Language : English
Color profiles :
Available Price: 25.00 €
Avions-bateaux suggestions :
Battleships Rodney & Nelson

35.50€

TTC

Battleships Of The Third Reich Vol. 2.

41.00€

TTC

Ship Plans N°03 - IJN Destroyers Matsu Class.

11.00€

TTC

The King George V Class Battleships HMS King George V. HMS Prince of Wales, HMS Duke of York, HMS Anson, HMS Howe.

35.00€

TTC

Battleships Of The Third Reich Vol. 1.

41.00€

TTC

The Forgotten War Of The Royal Navy. Baltic Sea 1918-1920.

28.50€

TTC

Russo-Turkish Naval War 1877-1878

30.00€

TTC