Available Price: 19.50 € VAT included 5.50 % : 1.02 €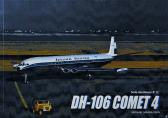 De Havilland DH-106 COMET 4.
Release of 1/09/2018
Author:
Michael Magnusson
Edition:
Monographies Argentines - Série Aerolineas N°12.
ISBN :
978-987-1682-50-1
Detailed monography of the famous jet aircraft De Havilland DH-106 Comet and its use in Argentina, widely illustrated with very nice and rare photos as well as superb colour profiles. Do not miss it !
Format : 27.5 x 19.5
Pages number : 46
Pictures number : 87
Language : Spanish
Color profiles : 4
Available Price: 19.50 €
Avions-bateaux suggestions :
BOEING 737-200 SERIES

19.50€

TTC

OA/A-4AR FIGHTINGHAWK

20.50€

TTC

SU-22 FITTER

19.50€

TTC

DASSAULT MIRAGE

20.50€

TTC

BOEING 707 SERIES.

19.50€

TTC

C-39 & C-47 SKYTRAIN.

20.50€

TTC

FOKKER F28 FELLOWSHIP.

19.50€

TTC