Available Price: 20.00 € VAT included 5.50 % : 1.04 €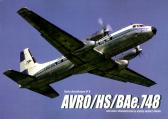 Avro/HS/BAe-748
Release of 1/12/2016
Author:
Michael Magnusson & Jorge Nunez Padin
Edition:
Serie Aerolineas N° 09
ISBN :
978-987-1682-41-9
By the end of the 1950s, three European projects were striving to attract the interest of commercial companies, which required a modern and efficient aircraft to replace basically the Douglas DC-3. The Fokker F-27 and Handley Page Heraud of high wing next to Avro 748 were the options, that had in common to the Rolls Royce Dart like power plant. Only the F-27 Friendship and the Avro 748 achieved commercial success with licensed production lines in the United States and India, respectively. Although the development of Avro 748 was initially delayed, in a short time Hawker Siddeley managed to reverse the situation.
Format : 27.5 x 19.5
Pages number : 51
Pictures number : 60
Language : Spanish
Color profiles : 10
Available Price: 20.00 €
Avions-bateaux suggestions :
BOEING 737-200 SERIES

19.50€

TTC

OA/A-4AR FIGHTINGHAWK

20.50€

TTC

SU-22 FITTER

19.50€

TTC

De Havilland DH-106 COMET 4.

19.50€

TTC

DASSAULT MIRAGE

20.50€

TTC

BOEING 707 SERIES.

19.50€

TTC

C-39 & C-47 SKYTRAIN.

20.50€

TTC