Out of stock, waiting back order Price: 20.50 € VAT included 5.50 % : 1.07 €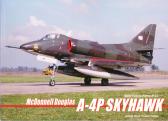 McDonnell Douglas A-4P SKYHAWK
Release of 15/03/2016
Author:
Jorge Felix Nunez Padin
Edition:
Serie Fuerza Aerea n°26
ISBN :
978-987-1682-35-5
Very nice issue about this specially modernised version used by the Argeninian AF. The A-4P remained in service for more than 30 years and took an active part in the Falklands war. Widely illustrated with very nice photos (some in colours) and colour profiles, contains a full list of the aircraft used in Argentina.
Format : 27.5X19.5
Pages number : 68
Pictures number : 130
Language : Spanish
Color profiles : 22
Out of stock, waiting back order Price: 20.50 €
Avions-bateaux suggestions :
BOEING 737-200 SERIES

19.50€

TTC

OA/A-4AR FIGHTINGHAWK

20.50€

TTC

SU-22 FITTER

19.50€

TTC

De Havilland DH-106 COMET 4.

19.50€

TTC

DASSAULT MIRAGE

20.50€

TTC

BOEING 707 SERIES.

19.50€

TTC

C-39 & C-47 SKYTRAIN.

20.50€

TTC