Bientôt en rupture Price: 19.50 € VAT included 5.50 % : 1.02 €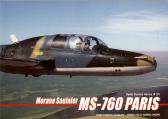 MORANE SAULNIER MS-760 PARIS
Release of 1/09/2015
Author:
Juan Carlo Cicalesi & Jorge Felix Nunez Padin
Edition:
Serie Fuerza Aerea n°25
ISBN :
978-987-1682-34-8
Small French built twin jet, the MS 760 served in Argentina during 49 years. The aircraft deserved a booklet and this one si second to none, thanks nice and numerous photos and colour profiles as well as a rich text. Very nice and totally new !
Format : 27.5X19.5
Pages number : 54
Pictures number : 160
Language : Spanish
Color profiles : 17
Bientôt en rupture Price: 19.50 €
Avions-bateaux suggestions :
BOEING 737-200 SERIES

19.50€

TTC

OA/A-4AR FIGHTINGHAWK

20.50€

TTC

SU-22 FITTER

19.50€

TTC

De Havilland DH-106 COMET 4.

19.50€

TTC

DASSAULT MIRAGE

20.50€

TTC

BOEING 707 SERIES.

19.50€

TTC

C-39 & C-47 SKYTRAIN.

20.50€

TTC