Available Price: 29.00 € VAT included 5.50 % : 1.51 €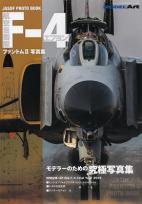 JASDF F-4 PHANTOM II - PHOTO BOOK.
Release of 2/05/2019
Author:
Edition:
Model Art - JASDF PHOTO BOOK
ISBN :
A very exciting issue dedicated to the Japanese F-4 Phantom. Many colour photos which allow to discover this specific version of the famous plane as used in Japan. Includes scale drawings and all the camouflage schemes used on the machines. Very nice !
Format : A4
Pages number : 164
Pictures number : 250
Language : Japanese
Color profiles : 16
Available Price: 29.00 €
Avions-bateaux suggestions :
MODEL ART N°14 - KI-15 "BABS", C5M, KAMIKAZE and ASAKAZE.

29.00€

TTC

N°1013 - Air war Over Tokyo - Interceptors of IJA

25.00€

TTC

N°1011 - Imperial Japanese Army & Navy Airplanes Illustrated Book vol.03

29.00€

TTC

N°961 - U.S. NAVY Modern Fighters & Attackers.

29.00€

TTC

N°997 - Imperial Japanes Army Fighters WWII.

29.00€

TTC

MODEL ART - KAWASAKI Ki61- II HIEN (TONY) "Record of restoration-Engine & Equipments"

29.00€

TTC

MODEL ART - KAWASAKI  Ki61- II  HIEN (TONY)  "Record of restoration - Body".

29.00€

TTC