Available Price: 29.00 € VAT included 5.50 % : 1.51 €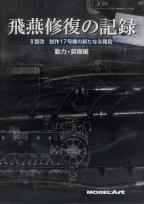 MODEL ART - KAWASAKI Ki61- II HIEN (TONY) "Record of restoration-Engine & Equipments"
Release of 10/12/2018
Author:
Edition:
Model Art Mechanical Guide.
ISBN :
This issue follows the KSE-26 dedicated to the rebuilding of the Kawasaki Ki.61 Hien fighter. This second volume covers the rebuilding of the engine and all the various equipments used in the aircraft. Wonderful for the scale modeller ; do not miss it !
Format : A4 + dépliant
Pages number : 132
Pictures number : 300
Language : Japanese
Color profiles :
Available Price: 29.00 €
Avions-bateaux suggestions :
MODEL ART N°14 - KI-15 "BABS", C5M, KAMIKAZE and ASAKAZE.

29.00€

TTC

N°1013 - Air war Over Tokyo - Interceptors of IJA

25.00€

TTC

JASDF F-4 PHANTOM II - PHOTO BOOK.

29.00€

TTC

N°1011 - Imperial Japanese Army & Navy Airplanes Illustrated Book vol.03

29.00€

TTC

N°997 - Imperial Japanes Army Fighters WWII.

29.00€

TTC

N°961 - U.S. NAVY Modern Fighters & Attackers.

29.00€

TTC

MODEL ART - KAWASAKI  Ki61- II  HIEN (TONY)  "Record of restoration - Body".

29.00€

TTC