Available Price: 25.00 € VAT included 5.50 % : 1.30 €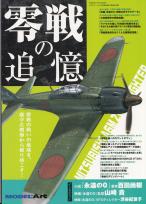 MODEL ART SPECIAL N°883 - Memories of Mitsubishi A6M ZERO FIGHTER.
Release of 1/02/2018
Author:
Edition:
ISBN :
Another issue dedicated to the famous Zero fighter but this time in coordination to Takashi Yamazaki's film describing the life of a Zero pilot who lost his life as a kamikaze and whose grand children discover the life and death. The issue describes the rebuild of Zero replica's and also the search for wrecks (sometimes rebuilt). Very interesting indeed.
Format : A4
Pages number : 144
Pictures number : 260
Language : Japanese
Color profiles : 27
Available Price: 25.00 €
Avions-bateaux suggestions :
MODEL ART N°14 - KI-15 "BABS", C5M, KAMIKAZE and ASAKAZE.

29.00€

TTC

N°1013 - Air war Over Tokyo - Interceptors of IJA

25.00€

TTC

JASDF F-4 PHANTOM II - PHOTO BOOK.

29.00€

TTC

N°1011 - Imperial Japanese Army & Navy Airplanes Illustrated Book vol.03

29.00€

TTC

N°997 - Imperial Japanes Army Fighters WWII.

29.00€

TTC

N°961 - U.S. NAVY Modern Fighters & Attackers.

29.00€

TTC

MODEL ART - KAWASAKI Ki61- II HIEN (TONY) "Record of restoration-Engine & Equipments"

29.00€

TTC