Available Price: 29.00 € VAT included 5.50 % : 1.51 €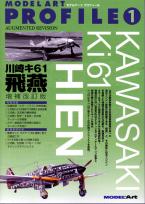 Model Art Profile N°01 - Kawasaki Ki-61 HIEN. Reissue !
Release of 15/06/2017
Author:
Edition:
MODEL ART PROFILE
ISBN :
Following the availability of the new and wonderful Tamiya 1/48 scale model of the Hien, Model Art has now reviewed their former n° 733 ; it now includes nice photos of the new kit, of the restaured planes, more drawings etc... A very useful book to all Japanese aircraft modelers. Very nice.
Format : 18 X 25.5
Pages number : 160
Pictures number : 250
Language : Japanese
Color profiles : 30
Available Price: 29.00 €
Avions-bateaux suggestions :
MODEL ART N°14 - KI-15 "BABS", C5M, KAMIKAZE and ASAKAZE.

29.00€

TTC

N°1013 - Air war Over Tokyo - Interceptors of IJA

25.00€

TTC

JASDF F-4 PHANTOM II - PHOTO BOOK.

29.00€

TTC

N°1011 - Imperial Japanese Army & Navy Airplanes Illustrated Book vol.03

29.00€

TTC

N°997 - Imperial Japanes Army Fighters WWII.

29.00€

TTC

N°961 - U.S. NAVY Modern Fighters & Attackers.

29.00€

TTC

MODEL ART - KAWASAKI Ki61- II HIEN (TONY) "Record of restoration-Engine & Equipments"

29.00€

TTC