Out of stock, waiting back order Price: 23.50 € VAT included 5.50 % : 1.23 €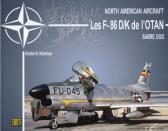 LES F-86D/K DE L'OTAN. Out of Print !!
Release of 10/11/2018
Author:
Robbie M. Robinson
Edition:
Éditions MINIMONDE 76
ISBN :
978-2-9541818-5-1
The North American F-86D / K Saber Dog is unquestionably one of the biggest American hunters.
Derived from the F-86A Sabre, which has distinguished itself in Korea against the MiG-15, this version has been widely used in the United States to ensure air superiority with the Fighter Interceptor Squadron and in Europe with several NATO air forces. . Manufactured under license in Italy by FIAT to provide the Alliance, the Saber Dog served seven air forces from the Old Continent, until the final withdrawal of the last fighters from the Aeronautica Militare Italiana in July 1973.

This book traces the history of the Saber Dog used in Europe by seven air forces, from the beginning of the program in 1949 to the withdrawal of these hunters surpassed by the new American fighters delivered to NATO, such as the F-104 Starfighter . Find out how this powerful and modern fighter has been put into service with these major air forces, explore its unique weapon system designed as United Nations forces fight in Korea, and find surviving specimens through the detailed production list for each user.
Format : 23.5 x 18.5
Pages number : 120
Pictures number : 123
Language : French
Color profiles : 43
Out of stock, waiting back order Price: 23.50 €
Avions-bateaux suggestions :
EC 145 & UH-72

27.00€

TTC

CANADAIR CL-215 & 415

19.90€

TTC