Available Price: 19.90 € VAT included 5.50 % : 1.04 €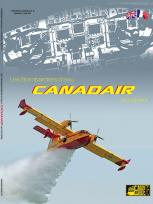 CANADAIR CL-215 & 415
Release of 15/01/2014
Author:
Frédéric Marsaly et Samuel Prétat
Edition:
Éditions MINIMONDE 76
ISBN :
978-2-9541818-0-6
64 color pages dedicated to this formidable family of fire fighting scoopers with a bilingual text illustrated with many of the 140 color pictures never published before, 3-view drawings and 24 specialy commissionned color profiles. Also featured are a photo section showing many outter and inner details, full production list and detailled worldwide users, all in a large 12.60 x 9.45 in. format .

These planes have been specially designed to fight wildfires but these "flying fire engines" are also used for maritime rescue and surveillance. Discover the multiple missions of the Canadair/Bombardier marvel in this French/English book providing you with a complete developmental history and the detailed list of all worldwide civilian and military operators.
Format : 24X32
Pages number : 64
Pictures number : 140
Language : French / English
Color profiles : 24
Available Price: 19.90 €
Avions-bateaux suggestions :
LES F-86D/K DE L'OTAN. Out of Print !!

23.50€

TTC

EC 145 & UH-72

27.00€

TTC