Available Price: 12.00 € VAT included 2.10 % : 0.25 €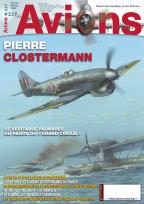 AVIONS N°227 - N° SPECIAL CLOSTERMANN
Release of 10/01/2019
Author:
Edition:
The true record of Clostermann, the Hero of the "Great Circus".
ISBN :
Here is an exceptional issue in which we are the first in the world to reveal to you in its entirety the palma-rès of the most famous french aces of the Second World War: Pierre Clostermann! Thanks to the use of all available archives, including his own flight diaries, the hunting pilot's career of the author of the "Grand Cirque" is retraced on 41 pages with a wealth of detail, in based on 110 photos for the most part unpublished and 13 original color profiles due to the talent of the illustrator Thierry Dekker.

Also:
FIAT CR 42 in the Battle of Britain;
-The Luftwaffe's reconnaissance in France during the "funny war";
-1939-1940: the staff relations in the Air Force;
-1914-1918: the French squadrons on the Italian front;
-News: Boeing EA-18G Growler, the electronic warfare US version.

Format : A4
Pages number : 96
Pictures number : 250
Language : French
Color profiles : 20
Available Price: 12.00 €
Avions-bateaux suggestions :
AVIONS N°235

12.00€

TTC

AVIONS N°234

12.00€

TTC

AVIONS N°233

12.00€

TTC

AVIONS N°232

12.00€

TTC

AVIONS N°231

12.00€

TTC

AVIONS N°230

12.00€

TTC

AVIONS N°229 - out of print !

12.00€

TTC