Available Price: 12.00 € VAT included 2.10 % : 0.25 €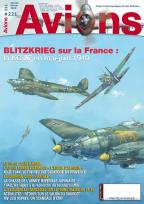 AVIONS N°221
Release of 20/12/2017
Author:
Edition:
La Kampfgeschwader 27 « Boelcke » dans la campagne à l'Ouest. (mai-juin 1940)
ISBN :
Summary :
- Kampfgeschwader 27 "Boelcke" in the western countryside (May-June 1940) .First part, by Jean-Louis Roba.
- The saga of Caudron "Rafale". Last part: Caudron C.660 (complete story). By Jean-Christian Bouhours and Édouard Mihaly.
- ARAWASI, the "wild eagles" of the Japanese imperial army. Part 5: Eagles in search of the second wind. By Bernard Baëza.
- The Grumman F6F Hellcat in the Second World War (Part 11). The landing in Provence (end). By Michel Ledet.
- Derek Ward, the ace who fell victim to the "star of Africa" ??(full story). By Norman Franks.
- French squadrons on the Venetian front (1917-1918). First part: the squadron Espinasse. By Luigino Caliaro and Roberto Gentilli, with the collaboration of Christophe Cony
- The MV-22 Osprey in operations: Last units and reflections (end). By Stéphane Nicolaou.
- Bourget 2017 (full story). The novelties in military colors. By Claude Archambault.
- Info-hobbies. By Michel Ledet.

In front page :
Heinkel 111 P of the 3./KG 27 attacked over Lille by Morane 406 GC III / 1 May 10, 1940. (painting by Lionel Labeyrie).
Format : A4
Pages number : 96
Pictures number : 160
Language : French
Color profiles : 10
Available Price: 12.00 €
Avions-bateaux suggestions :
AVIONS N°235

12.00€

TTC

AVIONS N°234

12.00€

TTC

AVIONS N°233

12.00€

TTC

AVIONS N°232

12.00€

TTC

AVIONS N°231

12.00€

TTC

AVIONS N°230

12.00€

TTC

AVIONS N°229 - out of print !

12.00€

TTC