Available Price: 23.00 € VAT included 5.50 % : 1.20 €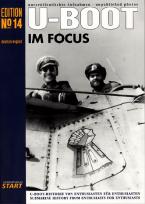 IM FOCUS N° 14 - U-BOOT.
Release of 10/06/2017
Author:
Edition:
Luftfahrtverlag Start
ISBN :
978-394143-7-33-3
Another new and fantastic issue of this German magazine about the Kriegsmarine submarine history. It simply shows how life was for all these men on board the famous U-Boats through amzing and rare photos. Very nice, as usual !
Format : A4
Pages number : 54
Pictures number : 46
Language : German / English
Color profiles : 3
Available Price: 23.00 €
Avions-bateaux suggestions :
IM FOCUS N° 17 - U-BOOT

23.00€

TTC

IM FOCUS N° 16 - U-BOOT

23.00€

TTC

IM FOCUS N° 15 - U-BOOT

23.00€

TTC

IM FOCUS N° 13 - U-BOOT.

23.00€

TTC

IM FOCUS N° 12 - U-BOOT.

23.00€

TTC

IM FOCUS N° 11 - U-BOOT.

23.00€

TTC

IM FOCUS N° 10 - U-BOOT.

23.00€

TTC