En Précommande Price: 35.00 € VAT included 5.50 % : 1.82 €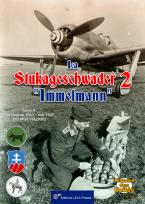 La Stukageschwader 2 'Immelmann'. Tome 02
Release of 30/06/2020
Author:
Marc Hazard
Edition:
Collection Histoire des Unités n°11.
ISBN :
978-2-37468-031-6
Publication JUNE 2020 - FREE SHIPPING until this DATE!
Offer reserved for individuals, non-contractual date.

Prefer payment by Visa / MasterCard that you will send by post. It will not be cashed until publication. Exclusive to LELA PRESSE!
Orders paid directly on the site will be debited immediately. ORDER FORM in PDF attached.

After the Battle of Kursk, the German units engaged in the east could only fight obstinately in an attempt to delay the inevitable advance of the Soviet steamroller. Like the other ground support units on the Eastern Front, the Stukageschwader 2 (now Schlachtgeschwader 2) had to adapt and adopt several modifications, the Fw 190 equipping more and more squadrons. But, despite the efforts of the high command, these planes could not completely supplant the 'old' Ju 87 who would remain the workhorse of many aces including Hans-Ulrich Rudel. The Ju 87 G equipped with two anti-tank guns was going to cause devastation among the armored adversaries even if they were engaged only in small number and could be piloted only by a handful of "Experts".
This Volume II covers the period from September 1943 to May 1945. It relates the last battles as well as the losses of the 'Immelmann' squadron retreating through Romania and Hungary, called continuously on all 'hot spots' to fill Whatever the breaches of a cracking brow on all sides is worth. This until the surrender of May 8, 1945.

A 160-page book, about 360 photos and 29 color profiles. Tome 01 always available on the site, section History of the Units.
Format : A4
Pages number : 160
Pictures number : 360
Language : French
Color profiles : 29
En Précommande Price: 35.00 €
Avions-bateaux suggestions :