En Précommande Price: 49.00 € VAT included 5.50 % : 2.55 €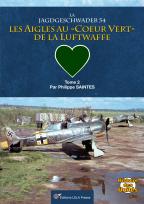 La Jagdgeschwader 54 : Les Aigles au 'coeur vert' de la Luftwaffe. Tome 02.
Release of 30/04/2020
Author:
Philippe SAINTES.
Edition:
Collection Histoire des Unités n°09.
ISBN :
978-2-37468-029-3
Publication APRIL 2020 - FREE SHIPPING until this DATE!
Offer reserved for individuals, non-contractual date.

Prefer payment by Visa / MasterCard that you will send by post. It will not be cashed until publication. Exclusive to LELA PRESSE!
Orders paid directly on the site will be debited immediately. ORDER FORM in PDF attached.


2nd part of the history of the Jagdgeschwader 54. While the fate of the war in the East was being played out at the beginning of 1943, the wing with the "Green Heart" saw its III. Gruppe removed from the sector to fight allied raids on the Western Front: duels on the English Channel to the sacrifice of Bodenplatte through the battles of the Landing in Normandy. It will become the first fighter group to fly on the Fw 190 D-9. Scattered across the eastern front, the I. II. and IV./JG 54 become "all-rounders". Despite the overwhelming air superiority of the Soviet forces, the Nowotny, Kittel, Ademeit, Rudorffer, Thyben and Broch have consistently lived up to their task. The IV./JG 54 is in turn deployed to protect the Reich at a time when the air war in Europe is on its way to its inevitable conclusion. From October 8, 1944 to the German surrender, the last Focke Wulfs of the unit supported the besieged troops in Courland. The result: a tragedy in which heroism and panache were not lacking.
336 pages, around 850 images, 30 color profiles. Tome 01 always available on the site, section History of the Units.
Format : A4
Pages number : 336
Pictures number : 850
Language : French
Color profiles : 30
En Précommande Price: 49.00 €
Avions-bateaux suggestions :