Not available Price: 64.00 € VAT included 5.50 % : 3.34 €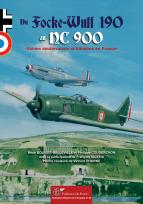 Du Fw 190 au NC 900. Usines souterraines et blindées en France. Out of print !
Release of 5/11/2018
Author:
René BOUVIER-BELLEVILLE et Philippe COUDERCHON.
Edition:
Collection Histoire de L'Aviation N°28
ISBN :
978-2-37468-010-1
From the hasty implementation of the French program of underground and armored factories in 1939 to the return to service of German planes abandoned at the end of the war, including the Focke-Wulf 190 fighter repair centers in France busy, this multi-faceted book makes you discover an unusual aeronautical history partly related to the village of Cravant and its quarries located south of Auxerre.
A technical history of the hundreds of Fw190s revised under occupation in the centers of Villacoublay, Tours and Cravant before being reconditioned in NC900 after the liberation. But also a human story, embellished with many testimonies, men and women French, German, Spanish or Russian who were embarked by will or by force in this adventure.
You will discover the production of the NC900 in the underground Cravant factory and their operational use amidst political and ideological struggles, as well as the history of the units that employed them in the confused years of the post-war period. Like the famous Normandy-Niemen regiment where these "Focke hunters" with cockades rubbed the Yak-3 during a period of disappointment, between the triumphant return of the USSR and the transfer to North Africa in the late forties.
This book is based on reports of epochs and archival documents, as well as on the many testimonies collected and intersected during twenty years of research and sometimes surprising encounters.
480 illustrated pages of more than 870 photos (including a complete photoscope of the last surviving NC900 for model builders!), About twenty cards and about forty shots without forgetting the 26 color profiles and 5 detailed profiles of Vincent Dhorne. With the participation of François IGLESIA.

Format : A4
Pages number : 480
Pictures number : 870
Language : French
Color profiles : 31
Not available Price: 64.00 €
Avions-bateaux suggestions :
L'AÉROSTATION de l'Armée de l'Air - 1934-1946. Les unités, les opérations, les matériels.

29.50€

TTC

Les AÉROPLANES VOISIN. Rest 35 copies then out of print !

39.00€

TTC

La SAGA ETENDARD. Tome 01. Out of print !

62.00€

TTC

Les CRUSADER FRANCAIS en action. Out of print !

60.00€

TTC

La SAGA ETENDARD. Tome 02. Sold out!

62.00€

TTC

SAMOURAÏ sur Porte-avions - Tome II.

59.00€

TTC

Carrier-borne SAMOURAÏ - Tome I .

55.00€

TTC